Are your residential drains flowing slowly but you are not able to see a clog? If yes, there might be some blockage or debris deep inside the drain pipes that are not accessible to your vision. In such a situation, drain camera inspection comes into effect. If your drain is blocking again and again, despite getting it cleaned regularly, there might be some hidden fault.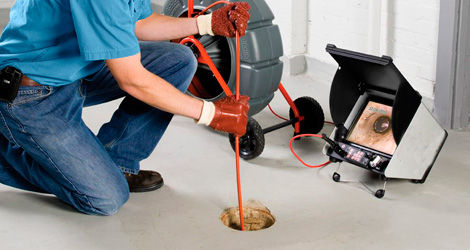 One of the ideal ways to detect the underlying problem is by utilizing a CCTV to inspect the drain thoroughly from every corner. Most possibly, your drain might be facing a bad connection, a collapsed section, or damage that is allowing the debris to accumulate inside the drain.
What We Do?
With years of experience in the drain camera inspection service in Toronto and GTA, our full-service drain cleaners at The Maple Roots are skilled to locate and identify the problematic areas effectively and quickly. One the source or cause of the clog is located, we eliminate the problem to bring your drains back into their shape and performance, thereby allowing you to save time and money in the long run.
Steps We Follow In CCTV Drain Inspection
Step 1 – Step 1 – Getting The Camera Into The Drain
To start with, first of all, we'll find an easy access point from where the CCTV camera is pushed inside the drain. In case of larger pipes, the camera is mounted on the crawler unit.
Step 2 – Taking a look
Once the camera is inside the drain, our plumbers will be able to see the images whenever the camera is moved along with the monitor screen. This allows us to notice the blockages or structural defects.
Step 3- Step 3- Compiling The Reports
After the inspection is completely done, we'll provide you a detailed report that will list the issues or damages in your drain briefly. We also provide photos and video footage on demand.
Why Choose Us?
We are a family owned drain cleaning company in Toronto that offers round-the-clock drain camera inspection services to homeowners dealing with mysterious drain issues. With years of experience, we are serving our clients with 100% satisfied services. Some reasons to choose us include:
We are on call 24 hours a day and 7 days a week.
We'll answer your queries with quick response.
We'll keep you informed throughout the process.
Our plumbers are professional and licensed.
We will leave the work areas clean and tidy.
Summary
Reviewer
Review Date
Reviewed Item
Drain Camera Inspection Services
Author Rating