Is your basement leaky? If yes, we can understand the hassles and frustration you might be facing right now. Water or moisture in your basement or crawlspace is a major issue that can ruin your peace of mind along with causing severe hygiene problems. Due to heavy rain or clogged drains, water can accumulate in the underground areas, thereby leading to damp basements. For all your flooding problems, sump pump installation is the ultimate solution.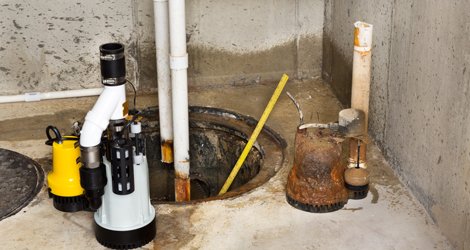 Get Rid Of Water Issues With Sump Pumps
If you have finally decided to install a sump pump in your home, hire a professional plumber in Toronto. At The Maple Roots, we are a leading plumbing company offering a diverse range of services including sump pump installation, maintenance and repair. No matter, the problem is simple or complex, we can solve it effectively. With a high quality sump pump installed in your home, we strive to keep your basement clean and dry, no matter what the weather outside is.
How It Works?
A sump pump is a device or an instrument that is designed to pump out the water out of a pit or an underground area. When placed below the water grade, this pump pulls the unwanted water out of the area and carry it away. A pit is usually dug at the base of the water grade or at the ends of the drain around your basement. Whenever it rains or snows heavily, water fills the pit to a level that turns on the sump pump.
As soon as the sump pump is turned on, it starts removing the water from the pit and drains it directly into the sewer line. In this way, damage due to accumulated water is prevented using the sump pumps.
Choose The Right Sump Pump For Your Home
For sump pump installation in Toronto, you need to make the right choice as it is the matter of your home's integrity. At The Maple Roots, our plumbers can greatly assist you in selecting the right sized pump and install it for you. To help you rest with ease, we also offer sump pump maintenance and repair services to keep the system working properly.
Summary
Reviewer
Review Date
Reviewed Item
Author Rating