Are you planning to clean your clogged drains? Does your home drains overflow now and then? If yes, you may need high efficiency drain cleaning that can be achieved by hydro jetting the drains and pipes. It is a proven way to eliminate the hard clogs or blockages which are preventing the regular flow of water into the pipes.Hydro jetting is an effective method of clearing out the plumbing system with the help of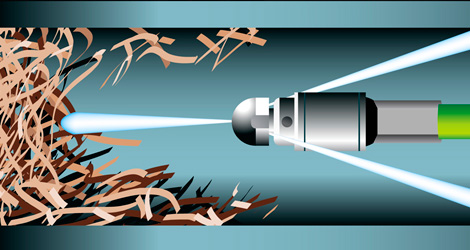 specially designed equipment that is responsible for tearing off the clogs.
It can greatly improve the lifespan and performance of a plumbing system. Compared to other measures, such as drain snaking, hydro jetting utilizes a concentrated and high-powered blast of water pressure to clear out the accumulated debris.
What We Do?
At The Maple Roots, we are a renowned drain cleaning company in Toronto that is proudly assisting the residential clients with high quality plumbing and hydro jetting sewer cleaning. No matter, the problem you are suffering from is simple or complex, our Toronto drain cleaners are always ready to serve you with a prompt response.
We recommend the method of drain hydro jetting in Toronto only when all other methods of cleaning a drain fail. It's true that this technique of drain cleaning costs a little more than the other options, but it can help save dollars and hassles in the long run. Since it cleans a plumbing system completely from deep inside, other issues are inhibited from cropping up.
Clean Sewer Lines & Drains With Hydro Jets
Drain cleaning
Unlike other means of clearing the pipes and hoses, hydro jetting is one of the most effective ways. Though chemical products perform to some extent, they offer small time benefits and cause damages to the pipes or drains. Drain snaking is another option that works only for small blockages or clogs and isn't efficient enough compared to hydro jetting as it uses a high-powered blast of water to clear the massive obstructions.
Sewer lines
Sewer lines can be cleaned using a hydro jet, especially if all other methods have failed at removing the clog. With hydro jetting, we can deliver superior quality cleaning for the clogged sewer lines. Moreover, this method is less invasive than a mechanical rooter that often involves digging up the portion of drains.
Summary
Reviewer
Review Date
Reviewed Item
Hydro Jetting Drain Cleaning
Author Rating