Drains are one of the most delicate home elements that are prone to frequent clogs and blockages. To make sure they run efficiently and without any hindrances, it is important to get it cleaned over time. At The Maple Roots, we have a team of qualified and licensed drain cleaners in Toronto who are skilled at cleaning the blocked drains for a long-term using the drain snaking technique.
What Is A Drain Snake?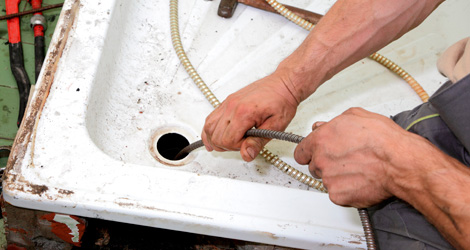 For those who aren't aware of the drain snakes, it is actually a plumbing snake or auger that is in the shape of long and flexible metal tube. This tube is pushed through the drain until it reaches the clog. By pushing it with force, the jammed pipe is unclogged. In other words, drain Snaking is a widely practiced technique that is helpful in delivering long-term drain cleaning effects using a metal hanger that is in the shape of a snake. This tool is allowed to go deep within the drains to prevent stubborn and unwanted clogs.
How Does It Work?
At The Maple Roots, our drain cleaners are expert at offering reliable drain snaking in Toronto and GTA. To start with, the plumbing snake or the metal plunger is pushed into the drain from the sink, tub, or toilet hose. Once it reaches the clog, the crank is used to dislodge the material, debris or whatever is jammed into the pipe. Doing it again and again in a twisting action will pull out the obstruction.
We are fully equipped and trained to provide a full range of drain snaking services to solve the most demanding plumbing issues. Over the years, we have managed to surpass our competitors by providing highly experienced and effective drain services.
The Maple Roots Difference
If you are tired of recurring drain clogs or roots within your sewer line, let us know. With the assistance of our expert plumbers, we can help you tackle the situation without much of hassles. Some of the reasons to choose us include:
Quality Services
Licensed Cleaners
Upfront Pricing
Satisfaction Guarantee
Emergency Services
Quick Response
Summary
Reviewer
Review Date
Reviewed Item
Author Rating