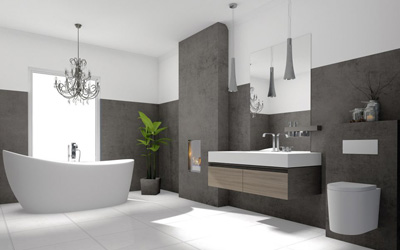 The bathtub is the most serene place which offers relaxation after a very rough day! However, scented candles, fancy soaps, and rose petals are not enough. Fortunately, some companies realized the importance of your de-stressing sessions. Thus, they have developed several technologically advanced models of bathtubs.
Reinvented Massaging Bathtubs
When merely soaking in a bathtub is not enough, why not look for some options to help you relax better? Here are a few options for you to consider.
Bubble Massage Bathtub
Who doesn't love a bubble bath? But, a bubble massage bath is a whole different story. Small jets installed in the bathtub blow out air bubbles in the water, giving a gentle massage experience.
Whirlpool Bathtub
Water jets are pumped around in the bathtub to create a same feel as a hot tub. Whirlpool bath is also referred to as hydromassage baths.
Indoor Hot tub
Looking for a steamy hot water bath? You can have your indoor hot water tub with in-built heaters to keep the temperature as you desire.
Combination Bathtub
If you are confused between bubble bath and whirlpool bath, then get the best of both worlds in this combination bathtub!
Advanced Technology Bathtubs
If you are still not satisfied with these bathtub options, here are some high tech and advanced bathtubs.
Chromatherapy bathtubs
These bathtubs bestow a full sensory experience by using lights and are generally used in combination with whirlpool tubs for a total spa experience.
Integrated televisions
Worried about missing your game? Soak in your bathtub integrated with a small LCD TV!
Sliding faucets
Hate finding that faucet to manage the right temperature of the water? Just slide a bar to maintain the temperature and flow of the water.
Smart technologies
You can manage your bathing experience with your phone or tablet. Each member of the family can set up their preference and the bathtub takes care of the rest.
If you're interested in experiencing the best soaking with advanced bathtubs. Contact Maple Roots today for more detailed options and features of each!